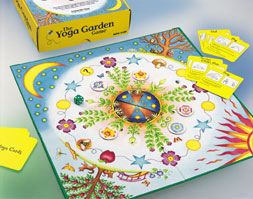 Welcome to The Yoga Garden, a game created by Jennifer Durand. Jennifer, a San Francisco yoga teacher who specializes in teaching yoga to children, created the game to help her students learn yoga. The Yoga Garden Game™ is designed for having fun with one another rather than against each other.
Yoga is a series of exercises designed to strengthen the body and calm the mind. The benefits of yoga have been known for thousands of years and include increased concentration and relaxation. Kids naturally are good at and enjoy yoga. Since the yoga positions are named after animals and objects found in nature, kids can use their imaginations while learning different poses.
The objective of The Yoga Garden Game is to plant a flower garden before night falls. As players move the bumblebee marker around the board they learn classic yoga poses, as well as have the chance to make up their own.
To purchase The Yoga Garden please click here!